Intranets today are place to do things a tool that supports collaborative work practices allowing employees to achieve outcomes.
They can truly engage your employees and connect them with company's information and various systems.
Naming your intranets forms one of many important aspect of your Adoption and change management exercise. It forms the part of the brand and visual design of your portal and offcourse that is how it will be referred to for its life.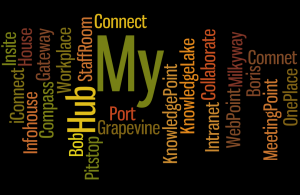 Here are few general rules –
The name should be short, catchy easy to remember and pronounce / understand.
We work in a multicultural society so mind the translation
Offcourse avoid using names that have previously been used for other systems in the organisation.
Ensure there are so resemblance to another system or service that company/industry vertical offers
Naming don't always have to be very serious. It should be a fun exercise, get your employees to be the author of the change and involve them in the naming process
Take into account the organisational culture.
Discuss with your vendor, they may have few ideas
Most importantly Keep it simple
Ideas for ground work required to help generate ideas –
Discuss with senior execs and stakeholders and understand their guidelines ( Go/No Go areas).
Talk to long serving employees and get some company stories from the past. This could be a good starting point to inspire the team while discussing intranet names
Take a note of organisation's lingo and vocabulary. There could be more to it based on the Industry vertical lingo that staff may use. E.G. an utilities company named their intranet "On Tap"
Grab a copy of organisational strategy and goals. Pick terms that signify organisation's vision and purpose.
Use dictionaries/thesauruses for ideas but most important invent a creative name (modernise if you like)
Finally let the process begin
Provide the super users with a brief based on your research and ground work as above
Request them to come up with few names each before the meeting
Bring together your super users for a discussion session once they are ready (this could be more than 1 session)
Start by talking through the core purpose of intranet and the expected benefits (keep this short). Give them few stories from your research above, make it fun!!
Use techniques like card sorting to shortlist the names amongst super user group/core project team.
Run a naming contest with some recognition and involve other employees. Give them an option to select from the shortlisted names or come up with theirs. Ask them to justify how they came up with the name.
Finally shortlist the names, involve the senior most stakeholders along with the core project team and get their feedback.
Advertise the new name and the winner. This is a good chance to talk about some quick wins/benefits the new intranet would provide. Keep it short though.
Once the name has been finalised use it for all Intranet communications along with any other change management artefact's developed (posters, t-shirts, comms, training content etc.)
Start referring to the new Intranet by its name.
While some of our clients find naming of the Intranet to be an employee engaging activity that involves lots of fun and teamwork, some of our other clients think the other way. Their suggestion was if the new Intranet tool provides ease of use, simple administration and empowers employees to find information and do their job then name is no longer a priority.
We would love to hear your thoughts? Would you name your intranet or any other software system? How did you name it and what were your challenges??
About Prometix: At Prometix, we design implement and support Microsoft based technology solutions that help our client's staff to more easily use and share information as individuals and in teams. We work with our clients to establish a structure that makes information easier to create, store, find and share with others. We've worked hard to understand how people want to access and share information.
For more information on our success stories please feel free to call us on (02) 8072 0666 or email enquiries@prometix.com.au