After one year of the pandemic, vaccines are becoming more and more available and lockdowns are being lifted on a daily basis. How will the return to the corporate office affect companies and employees and what practices or methodologies will influence the next phase of business?
As businesses moved to a remote workforce, they had to adjust onboarding practices, meeting etiquette, learning initiatives, performance evaluations and promotions, and aspects of office life that were taken for granted, such as watercooler culture. It was a year of Teams meetings, long-distance learning, live streaming and remote get togethers.
The employee engagement has been ever so important in these times and people were looking for an ''employee experience platform'' (EXP). Given that we spend nearly one-third of our lives working or about 25 years, our 'experience' at work should be the highest priority. Yet so often we focus on raw productivity, hitting KPIs, and profitability. Employees' experience at work can be easily overlooked as we expect people to show up and simply do their job. Now, with the experience generation, millennials, making up 35% of the workforce it's no surprise the conversation has shifted and the spotlight turns to experience platforms.
One of the key aspects of the employee engagement is THE INTRANET. There are many different types of engaging intranet content, but they often share similar characteristics. First and foremost, any content you create should have a purpose. The biggest mistake to avoid in your intranet content strategy is creating content simply for the sake of it. Overloading employees with information that isn't helpful or relevant contributes to a negative employee experience. Over time, you'll find that engagement drops as users tune content out.
The beauty of an intranet content management system is that it gives you the tools to communicate information in a variety of dynamic mediums. Why limit yourself to weekly e-blasts when you can just as easily distribute a video or start a discussion? Whether you've recently completed the intranet adoption process or your organization has been operating in a digital workplace for years, these intranet engagement ideas will help employees experience content in an entirely new way.
Knowing this very well Power Intranet (part of Powell Software) has come up with the winner that Prometix are keen to showcase to our customers. Powell Intranet is an add-on UI software for SharePoint online (office 365). Powell has 400+ customers & 1.5million+ users worldwide.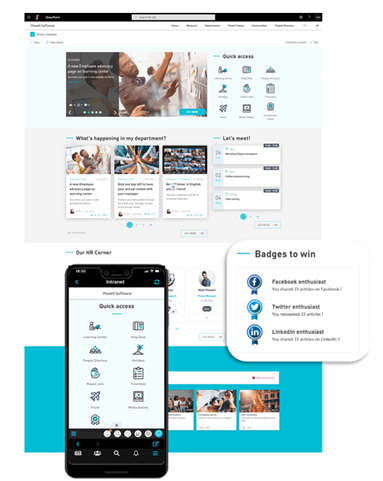 Here are some of the key features that enhances the intranet user experience:
Keep everyone informed and engaged
Say goodbye to long emails lost in overflowing mailboxes, use the company intranet as a corporate communications space to share company updates with all employees. Ensure everyone is aligned and that no one misses important messages. Make it relevant and let users filter by location, department, and more.
Centralise information and make it accessible
Your company intranet is a corporate communications platform allowing the sharing of information in one central space. Use it to store documents, like brand guidelines, or upcoming events. Incorporate a social feed so employees can interact with company social posts. Make it accessible from any device by every employee.
Leverage the power of employee advocacy
Turn staff into internal influencers. Increase brand awareness and organic reach. Leverage marketing content to the max. Boost employee engagement. Give workers a voice. Easily build an employee advocacy program with our social sharing tool for the digital workplace. Rewards and gamification ensure participation.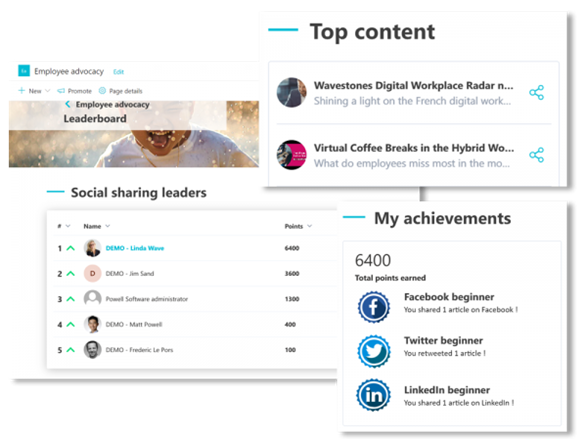 Easily manage crisis communications
No one knows when a crisis will hit, but when it does it pays to be prepared. Our crisis management site template for the digital workplace is pre-built and ready to be deployed, so when a crisis hits you're ready. Control the flow of corporate communications so all employees, from remote to deskless, are kept informed and up to date.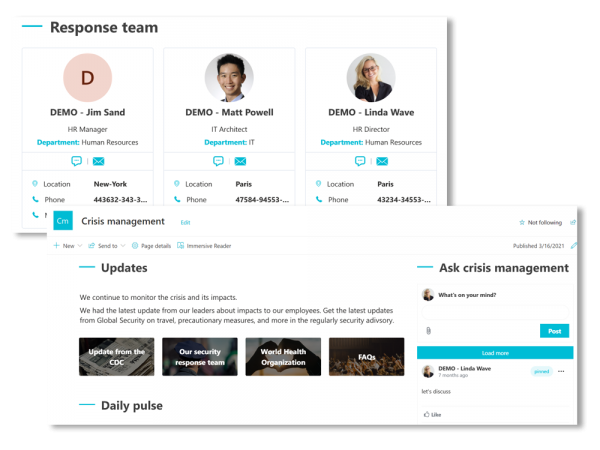 Welcome new employees
Every employee deserves a warm welcome when they join your company. Introduce new arrivals via your corporate intranet to give others the opportunity to say hello. Think of creative information to include that goes beyond their name and job title. For example, you might ask for their favorite ice cream flavor or dream travel destination.
Create a dynamic onboarding process
The onboarding process is every new hire's first taste of what it's like to work within your organization. In fact, statistics show that 90% of employees decide whether to stay or leave within the first six months at a new company. Get off on the right foot with a dynamic onboarding process that uses multiple different types of engaging content, all housed within your CMS intranet library.
Personalise mass messages
Did you know that we're more likely to engage with content when it's personalized with our name? According to data from Experian, email marketers experience a 29% higher open rate and a 41% higher engagement rate when they use this strategy. Try customizing your next company-wide blast with each employee's first name and see if that alone makes a difference in engagement data.
Maintain an events calendar
Does your company regularly host virtual happy hours, keynote speakers, or workshops? Increase participation by making an events calendar available to everyone in the organization. With the help of an intranet content management system, you can easily keep event pages organized and include links to relevant resources.
Ask for suggestions
If you're still feeling stuck, why not find out what types of intranet content your employees want to see more of? Open up the floor for suggestions by creating a brief poll or survey to find out what specific content those within the company are interested in. At the same time, don't forget to track analytics and see what the data shows employees engaging with most frequently.
Prometix as a Microsoft Gold certified partner and certified O365 consultants (Sydney, Canberra, Melbourne & Perth), we have experience in delivering Intranet solutions. If you need more information or a demo of Powell Intranet then please contact us from enquiries@prometix.com.au.