Non for Profits have always tackled the difficult challenges of the world head on and alongside those challenges is the increasing demand for digital transformation. With Microsoft Cloud, your non-profit organisation can continue to focus on delivering your mission whilst also ensuring the organisation is growing and thriving with the help of this technology.
The Microsoft Cloud for Non-profit is a set of ready-made solutions for common non-profit scenarios, covering Constituent Management, Fundraising and Engagement, Volunteer Management, and Program Delivery. You can work with these solutions "out of the box" to get up and running quickly or extend them to meet your unique requirements.
They are all based on the non-profit common data model, which is an industry standard definition of data tables, attributes, and relationships that can work across any application and can help you unify disparate data across your organisation. All the solutions in the Microsoft Cloud for Non-profit are built on this common data model, which means they all work together and connect seamlessly. You can start with one app and expand at your own pace or deploy multiple solutions together.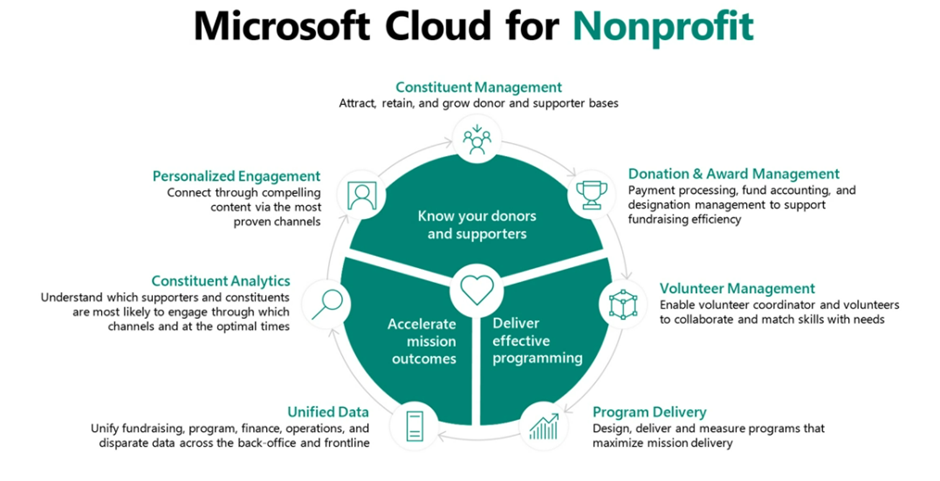 The Microsoft Cloud for Non-profit brings together a range of Microsoft technologies – covering Microsoft 365, Power Platform, Dynamics 365, and Azure, all tailored for the needs of the non-profit sector. The Microsoft Cloud provides you with limitless data and analytics capabilities, and a trusted solid foundation of identity and security.
Dynamics 365 for non-profits is a solution has been designed keeping the challenges and business structure of such non-profits in mind. It has proven itself to be the most successful system which is depended upon by numerous non-profits across the globe.
With Dynamics 365 for non-profits, you get financial harmony in your operation that is integrated with your email, CRM, and infrastructure. It allows you to unify financials and operations across different charities, funding sources, memberships, and associations, and drive new operational efficiencies to support regulatory compliance and report, automate key functions, and is easy to learn for new volunteers.
The solutions help non-profit across the following four priority scenarios. These pillars represent Microsoft's commitment to the non-profit sector and guide further development and strategy for new technology solutions in this area.
The Fundraising and Engagement application sits at the heart of the Cloud for non-profit, enabling you to attract, retain, and grow donors, and centrally manage all your fundraising activity – individual donations, regular giving, pledges, and major moves. The same constituent records are used across all the solutions, so where you are managing relationships with volunteers, board members, or sponsors, you will be able to view a complete profile of all their interactions with all parts of your organisation (within the security and permissions you allow).
The fully integrated marketing solution means that you can use all the interactions and data you have about your constituent to personalise and automate donor or volunteer journeys across the lifecycle.
Volunteer Management and Volunteer Engagement provide you with a completely connected solution to manage the end-to-end process for recruiting, onboarding, and mobilising your volunteers, maintaining information about preferences and qualifications, and automating and tracking communications throughout. You can create engagement opportunities in the app and publish them to the secure portal, receiving applications online from your volunteers, with no need to build any integration.
The Microsoft Cloud for non-profit can also support your work with volunteers with templates for SharePoint and Teams. The volunteer centre SharePoint template provides you with a hub to share information and resources with your volunteers, providing them with easy access to everything they need for training, onboarding, or upcoming events. The Teams template makes it easy for your staff to collaborate on and streamline volunteer management activities, share documents, and complete tasks.
The Program Impact Dashboard helps you understand the impact of funds raised, programs delivered, and outcomes achieved. We know preparing reports for funders and applying for grants can be hugely time consuming, particularly when you need to gather data from multiple sources, so this rich Power BI dashboard report is designed to make that process more streamlined, giving you the metrics, performance and progress tracking you need to report on impact.
The Microsoft Cloud provides best in class security tools, and a security program specifically for non-profit, to protect your organisation against cyberthreats. The offerings here make sure your sensitive data is protected, and can include proactive monitoring, organizational risk assessment, notification, and training for your IT staff.
For more information or to view a guided tour, visit aka.ms/MicrosoftCloudforNonprofit
Prometix is Microsoft Gold Partner and proud to support the non-profit cloud initiative from Microsoft. We can help with advisory services, rapid deployment, or customised solution development for your organisation. If you'd like to see a demo or learn more about how this technology could work to support your mission, please reach out to us at enquiries@prometix.com.au